Mediation for Sunday, May 9th, 2021
​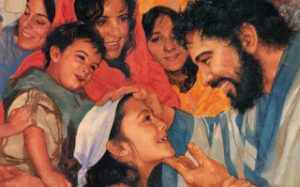 ​
​
Jesus said to his disciples,
"As the Father has loved me, so I have loved you; abide in my love. …I have said these things to you so that my joy may be in you, and that your joy may be complete."
​
Joy.
​
Jesus brought joy… A message that for some reason many of us did not receive growing up in the church. But joy in the presence of Jesus must've been intoxicating. Followers swarmed to him. Think about it. To use his metaphor: he was filling us with that new wine of life that flows from the fruit of Love.
​
Jesus uses the metaphor of the vine and fruit to express that mystical relationship of God as Love rooted, grounded and growing into a canopy of branches worthy of consoling all of us in the shade of our own affections.
​
God is the gardener, Jesus the vine, we are the branches where the fruit flows directly from the source. And it is grounded in life. He uses very earthy metaphors – not just because people understood farming and harvesting, but because we are of the earth. We are grounded. We have a very real struggle to manage "the flesh" of this life.
​
Jesus addresses this struggle through the vehicle of healing. If you have ever really needed physical healing, emotional healing, connection, relationship; joy is the fruit of the relief it brings: to be seen, to be known, to be loved.
​
Jesus brings joy through the vehicle of healing: a very specific form of love. It is not simply a momentary feeling of excitement, but rather the understanding of an everlasting sense of wellness. Jesus reminds the disciples that their joy is based in heaven. In theology we may refer to it as "soteriological joy" meaning salvation through joy. His teaching that the Kingdom of Heaven is within each of us remind us that this saving joy is available to us now – and is an everlasting state. This is also why he teaches us to pray for our enemies. Our joy is complete when we are free of the obstacles that confine us in temporary forms of unhappiness, anger or fear, limiting our ability to love ourselves and one another. It is a choice we make every day to follow Jesus on this path of love: a path of everlasting joy which requires forgiveness, perspective, acceptance, humility, humor, gratitude, compassion and generosity.
​
​
​
​
image: artist unknown (borrowed from http://thewildreed.blogspot.com/2007/03/joy-most-infallible-sign-of-gods.html on June 29, 2021)